Peyia, Coral Bay & Paphos
In addition to the pages about the villa, this page has been included to give you a feel about the local area in this part of Cyprus and what's on offer. We hope this information encourages you in making a decision about planning your next holiday, hopefully at Villa Myrtia.
Peyia
Peyia is situated on the Western side on the island of Cyprus, about 5 km inland from Coral Bay and 12 km North West of Paphos. The village has grown over recent years but still retains its charm and attraction for visitors. Peyia has developed on the side of hills hugging the coastline and as such offers some superb views along the shoreline towards Coral Bay, Paphos and surrounding villages. The village itself contains the usual essentials, supermarkets and places to eat and drink, entertainment is fairly low key but there are some tavernas offering theme nights with traditional Cypriot culture and other forms of entertainment. The village also has a post office, doctors and pharmacies if required. Peyia is also renowned for weddings as a result of the pretty setting of Peyia Springs in the centre of the village next to the Town Hall. Nearby villages include Kathikas further up the mountains again offering several places to try the local cuisine. In addition there are vineyards in the region with tours and tasting of samples on offer, Sterna Winery being very popular. Peyia itself is ideally positioned for exploring the region as you can be on the beach in less than 10 minutes by car, up in the mountains in next to no time and experience the breath taking views or visit traditional Cypriot villages with their charm and warm welcome. The choice is yours.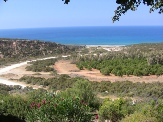 Further up the coast you will find the nature reserve of Akamas Peninsular. This is a part of Cyprus which has been protected from commercial development and therefore retains the natural habitat typical of Cyprus. The roads in the area are generally hardcore and accessible by suitable off road type 4 x 4 vehicles. Here you will find the sandy beach of Lara, it is famous for turtles, one end is sectioned off to prevent disturbance of the turtle hatchery. There are no facilities at this beach, but it is worth a visit to explore the area and take in its natural beauty. Also in the area is a restaurant at Viklari also known as The Last Castle. The food is simple, barbequed pork, chicken or lamb and is very tasty. The atmosphere and views are superb. The hanging grapevines overhead provide a nice shade in the sun. It is well worth a visit and is open between 10.30 and 5.00, and is worth booking in advance; although they do manage to fit in everyone who arrives on spec.The phone number is 00357 269911088 or 00357 99489000 or visit the website for more details. Best table is number 1 for views approaching the restaurant and also along Akamas Gorge. You can get there in any type of car, but the last 4 km or so is on hardcore road and requires careful driving.
Coral Bay
The resort of Coral Bay is well known. It has many bars and restaurants of international origin including Cypriot. Some bars also include entertainment such as tribute bands and singers and the usual sport related TV. Although the main strip running through the resort does cater for those looking for an entertaining evening, the resort does cater for all and you can find quieter places to unwind and relax.
Coral Bay does boast one of the best beaches on the island and is a blue flag beach. Coral Bay Beach is about 1 km from the resort centre. Most beaches in the area are pebbly; however the beach at Coral Bay is sandy with plenty of facilities including water sports such as pedlo hire, jet skis, and paragliding and so on. You will also find showers, toilets, snack bars, sun beds and parasols for hire.
Further west a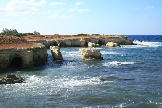 long the coastline situated between Coral Bay and the small fishing village of St. George Further lies and area known as Sea Caves. The area next to the sea is very rugged and provides for some interesting walks and vantage points to take in the views. About 2 km west of Coral bay is a Taverna located next to the sea called Yialos where you can have a meal or light refreshment and provides an excellent point form which to explore the area or just relax and take in the fresh sea air. It is easy to find, just take the main road out of Coral Bay past the beach, turn left and follow the coast road and it is sign posted about 1 km after leaving the outskirts of Coral Bay.
Paphos
Paphos is the main town in the region. It also has a port and tourist area at Kato Paphos. Here you will find a vast range of shops, commercial establishments and other essentials e.g. hospital. In addition to the main hospital, there is a private medical centre in Paphos called Blue Cross Medical Centre on 51 Demokratis Avenue tel. 00357 26 22 1111 and is available 24 hours a day. It is located opposite McDonalds on the dual carriageway between the start of the motorway and the Debenhams roundabout where the sprinklers are. See map for location.
Kato Paphos and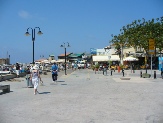 harbour are worthy of a visit. There are many shops and places to eat and drink and you can relax by the harbour and soak up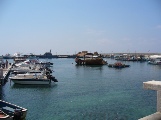 the sun and atmosphere. Paphos is very popular for weddings and it is quite possible you may witness a wedding party embarking on an excursion on one of the many ships moored in the bay.
If you are feeling adventurous there are boats you can hire, proper speed boats with some serious power, not the "put" "put" things you find in boating parks. If you don't fancy taking on the risk yourself, you can always go on an excursion where they will pilot the vessel for you. There are several operators offering half and full day cruises to various destinations up and down the coastline. There is ample free parking in the nearby public car park.
Paphos is also home to a water park called the Aphrodite Water Park. It is located on the Southern end of Paphos quite near the main hotel area running along the coastline. This is a great place to spend a day with your family. For further details and information go to www.aphroditewaterpark.com
Golf is becoming very popular in Cyprus; there are three courses in the Paphos region. Minthis hills near Tsada, Secret Valley Golf Club and Aphrodite's Hills. Aphrodites Hills is also a resort; hotel and spa. For more details on these courses go to www.cyprus-golf-courses.co.uk.
Further Information can be found at the following websites...
Akamas at Cyprus Travel Secrets